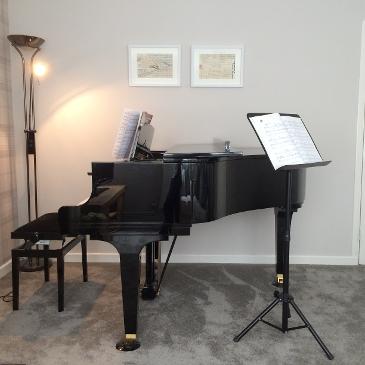 "Your song is born from your imagination, your technique springs from your thoughts, your interpretation is moulded by your emotion & thought together." - Giovanni Lamperti
Rachele's private tuition is based at her home in Upminster Bridge.
Lessons last for 30 or 60 minutes on a weekly basis (Monday to Friday until 7:30pm). 30 minute lessons are recommended for children under 11 years of age.
Lessons are tailor-made to suit each student. Students can choose which area of their singing they wish to improve and the type of repertoire they would like to learn. Rachele accompanies students on piano or, where necessary, uses backing track.
Rachele hosts termly student concerts in Upminster to give each student the opportunity to perform a solo song in front of friends and family. Students are accompanied by a pianist or guitarist.
Students who have one-to-one singing lessons with Rachele are invited to take part in performance workshops where they can sing as part of an ensemble or duet. This helps to develop students confidence when performing and gives them the opportunity to experience singing in harmony.
Many of Rachele's students enter Stratford and East London Music Festival and Southend Music Festival and there are also opportunities to take Music Theatre (LCM) or Singing Exams (ABRSM or Trinity Guildhall).
For more details regarding lessons, availability, prices and performance opportunities please contact Rachele.